Welcome to the first of our new format on-site newsletters! We hope you enjoy it as much as we enjoyed putting it together for you. Posting our twice-quarterly newsletters to this dedicated page allows us to build a Newsletters Archive, thereby giving our students the opportunity to access important information from the archive – from recommended films and television series, to useful websites and other relevant information.
Reflecting over the past twelve months, 2012 has been a big year for the school and our students. To name but a few of the year's highlights…
Graduate student Agoes Soedjarwo starred in The Jungle, the third film in director Andrew Traucki's critically acclaimed and financially successful Three Colours Red trilogy (The Reef; Blackwater; The Jungle.) The Jungle is slated for a national cinema release on December 24. If you're a fan of Traucki's previous two films – and you're up for another scary ride – then make sure you see the final film in the trilogy.
After wrapping The Jungle, Agoes then went on to play a significant role in the multi-award-winning short film Sleeping in Blood City, directed by Shaun Katz (Silver Ace – best short film – Las Vegas International Film Festival; Audience Choice award Sydney Underground Film Festival; Best Editing IndieFest USA Film Festival)
In August the Screen Actors Workshop won Outstanding Education Service for the second time in three years at the Northern Beaches Local Business Awards. Thank you once again to our dedicated staff and our loyal students – we couldn't have done it without you!
In April, we celebrated our third Gold Logie winner when actor Rob Carlton won a Best Supporting Actor Logie for his brilliant portrayal of the young Kerry Packer in ABC-TVs excellent Paper Giants: The Birth of Cleo.
Along with all of the other film, television drama and television commercial roles performed by our former and current students over the past twelve months, it all adds up to a very successful year indeed. Well done – and keep up the good work!
STUDIO CHRISTMAS PARTY
What better way to celebrate a successful year than to whoop it up in style at the studio Christmas party!
Saturday December 8 at 7-30pm. Live music! 2012 Bloopers Reel! Plenty of snacks and refreshments!
We hope to see as many of you as possible at the party as we celebrate Christmas and the end of 2012 classes.
TERM DATES
Term 4 ends on Saturday December 15, and Term 1, 2013 starts week commencing Monday January 28, after the six week Summer semester break. To secure a place for next year all returning students are required to post a $50 deposit on their nominated class for Term 1, 2013.
JANUARY FILM ACTING TECHNIQUES MASTERCLASS
Taking Bookings Now! Contact Us to book a position.
EXCITING NEW 2013 COURSES
Screen Acting Intensive masterclass tutor Salvatore Coco will be launching a new Comprehensive Intensive Screen Acting masterclass for 2013. Sal's course will cover all aspects of preparation, auditioning and subsequent on-set performance expectations.
Following the success of producer and former A-List actors agent Hugh Cann's Audition Process Seminar and Q&A Session, we will be continuing this new program in 2013 with more seminars and Q&A sessions with leading film industry practitioners. Stay tuned for an impressive line up of guest speakers!
UPCOMING OPPORTUNITY! CANNY PRODUCTIONS AGENCY TELEVISION PILOT
Producer Hugh Cann from Canny Productions is in the process of putting together a pilot for his projected multi-platform series Agency. The 13 part series is a satire about a fictitious Sydney casting agency which is loosely based around Hugh's experience with his late mother June's premier A-List actors agency the June Cann Agency. Hugh will primarily be casting students from the school for roles in the Agency pilot and some initial test scenes will be shot early 2013. Hugh has some innovative ideas for the multi-platform marketing strategy for the series and the Screen Actors Workshop is thrilled to be associated with the project. Stay tuned!
2012 MASTERCLASS PROGRAM REVIEW
The school's Masterclass Program presented a wide range of short courses during 2012, not the least of which was the Film Acting Techniques masterclass which by popular demand was held twice during the year, in January and again in July. The January masterclass produced the short film Jim Dandy, while the July masterclass produced the short film Harrison's Hangover.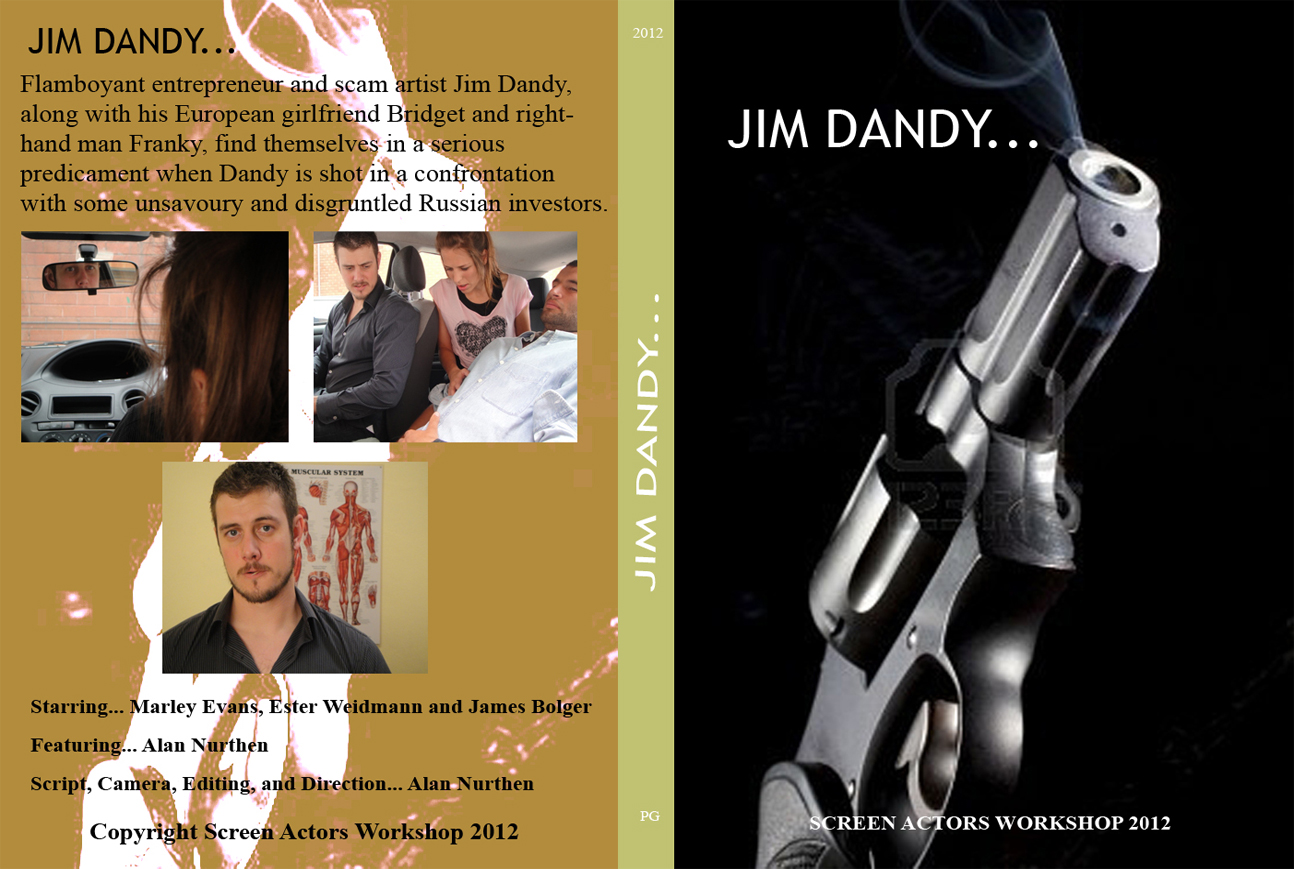 Three masterclasses were held during August alone: Hugh Cann's Seminar and Q&A Session; followed by the hugely popular Armoury for Actors masterclass with film armourer/tutor Tony Garland at the Botany Pistol Club; followed by the Screen Acting Intensive with tutor and multi-award winning actor Peter Phelps.
Then in early November casting director Kari Harris ran another group of keen students through the Screen Test/Audition Process masterclass. And speaking of Kari, we send our love and best wishes for her wedding in Fiji on December 7!
STUDENT NEWS
Congratulations to advanced adult student – and soon-to-be first-time mum – Mindi Jackson for knocking it out of the park with her first long-form infomercial "Why can't new cars come with a real guarantee" Lucy's Story on the Toyota Motors website. Well done Mindi and we wish you joy and happiness with the new baby!
AMAZON STUDIOS
If you have a television pilot, comedy series or a feature film script you are trying to sell or gain interest in, then check out www.amazonstudios.com where you will find a wealth of useful information. It's free to join and there are numerous ways of downloading and pitching your script depending upon how you want to go about promoting or selling your project. Well worth a look for the budding screenwriters among our student body!
MONA VIE ENERGY DRINK
To help our students stay sharp and focused in class, the school is now selling Mona Vie energy drinks at the studio. Mona Vie is a premier acai blend, a healthy energy drink and dietary supplement with an energy boost similar to Red Bull, but without the sugar and chemicals contained in Red Bull. Many of our students are now taking advantage of the product and have noticed a marked increase in alertness, focus and concentration.
CLASS SCENE DVDs
If you would like an edited copy of your past or previous term's work on DVD then see me in class or email me and I'll organise it for you. Class scene DVDs are $40 per term's work or the same price for a 5 scene compilation of your favourite scenes.
Have a very Merry Christmas and a happy and successful New Year and I look forward to working with you again in 2013.
Alan Nurthen
Director