Classes return from Tuesday January 28 and I look forward to working with all of our ongoing students again. I'd also like to welcome the new students commencing classes with us this term.
To get you in the mood for some serious screen acting here are some words of advice from one of the world's most popular actors
JANUARY FILM ACTING MASTERCLASS
The January Film Acting masterclass produced the short film, Refugee. I had an ideal cast for the script and the course was a great success thanks to the effort and commitment of cast members Mona Bagherpour, Jozsef Kleiner, Ashwai Muo and Paul Millett.
For a series of production stills from Refugee, see Photo gallery page.
AMERICAN ACCENTS AND DIALECTS MASTERCLASS
Next up on the Masterclass Program is American Accents and Dialects. Tutored by Bill Pepper, the course runs over two consecutive Sundays from 11am to 5pm on the 2nd and 9th of March. Bill is regarded as Australia's leading voice and accents coach, and during his illustrious career he has voice-trained four Academy Award winners.
Bill Pepper working with Screen Actors Workshop students
THE HOLLYWOOD SURVIVAL GUIDE
Kym Jackson, a successful Australian actor working in L.A. has written a definitive handbook on how to crack the Hollywood film and television industries. Kym's book – The Hollywood Survival Guide for Aussie Actors – retails in major book stores for $40, but Screen Actors Workshop students can pick up a copy at the school for the generously discounted price of $30. An interesting and informative read for actors with their sights set on making it in Hollywood.
TV SERIES ON DVD
Television seems to be the new frontier for creative talent these days, with canny production companies and series runners producing some truly awesome and groundbreaking shows. Below are some of the best of the current crop…
Breaking Bad (USA: 2008-2013)
The multi-award-winning Breaking Bad has been hailed by critics and fans alike as the greatest television series ever made. So if you've been living in another galaxy for the past few years, then get thee to thy nearest JB Hi-Fi store and pick up the entire series. You won't be disappointed, as BB is a veritable masterclass in acting, directing, editing, script writing and cinematography.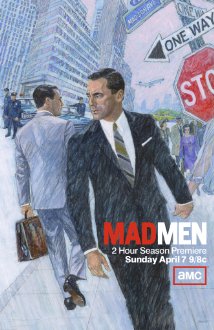 Madmen (USA: 2008-2014)
Another masterclass in acting, Mad Men is all about character, or in Don Draper's case, the lack thereof. But love him or hate him, you can't stop looking at him and wondering what he will do next. And Don Draper is just one of many fascinating Mad Men (and women) appearing in the series.
Californication (USA: 2007-2014)
hank goodness David Duchovny fell in love with the pilot script for Californication and decided to put his film career on hold and return to television for this hilarious and groundbreaking series. Californication is seriously in-your-face viewing and is definitely not for the prudish or faint hearted. Also starring the gorgeous Irish actress Natascha McElhone as Hank Moody's (Duchovny) on-again off-again girlfriend, and the fabulous Evan Handler as Moody's literary agent, Charlie Runkle.
Treme (USA: 2011-ongoing)
Set in post-Katrina New Orleans, Treme is about adversity and the human spirit in the aftermath of the greatest man-made disaster in American history. Ordinary people – musicians, chefs, residents – find themselves clinging to a unique culture and wondering if the city that gave birth to that way of life still has a future. Treme is full of great music and features musicians of the caliber of Dr John, Allen Toussaint and Elvis Costello. Well worth visiting.
Rake (Aust: 2010-ongoing)
And last but not least, a classic Australian television series starring one of my favourite Aussie actors Richard Roxburgh as loose cannon solicitor Cleaver Green. Rake is full of witty dialogue and features classic exchanges, such as… Mystery Government Man: (to Cleaver) "Would you like me to paint you a picture?" Cleaver: "Yes, but not necessarily an oil painting. A line drawing will do." Well worth checking out if you enjoy quality drama with its tongue planted firmly in its cheek.
CLASS SCENE DVDs
If you would like an edited copy of your past term or previous terms's work on DVD then see me in class and I'll organise it for you. Class scene DVDs are $40 per term's on-camera scenes or the same price for a 5 scene compilation of your favourite on-camera scenes. Class scene DVDs are an effective means of improving your performance and technique via further home study.
To wrap up the January-February newsletter, it's been a long six week summer semester break with only a few private tuition sessions and the January Film Acting masterclass to keep the creative juices flowing, and I'm looking forward to getting back to teaching full-time again. See you all when classes return from the 28th of January.
Have a happy, healthy and successful 2014!
Alan Nurthen (Director)