Another year rolls by – and what a creative year it's been at the school.
The  quality of work has been outstanding and it's gratifying to see just how much our students have learned during the past year and how well they have applied those lessons.
Well done everyone and keep up the high standard of work.
To kick of the newsletter, some wise words  from  Meryl Streep…
Love the you, you are. Good advice indeed.
Term Dates 2016
Term 4, 2015 finishes on Saturday 12 December.
Term 1, 2016 commences from Tuesday 26 January – Australia Day, but we don't observe public holidays during term, so the Junior class returns that day at the usual time of 5-30 pm.
Studio Christmas Party 
The Christmas party on Saturday 28 November attracted a  diverse crowd of partygoers  of  all ages – from SF3 film festival director Angela Blake and her baby son to teen student Ethan Henderson's charming grandmother.
Vera and I were having so much fun that we forgot to take any photos until after midnight when only the hard core party animals were still in attendance.

We had over 40 people at the party and everyone enjoyed the bloopers and the selection of class scenes from all ages and levels of study.
Kids Holiday Film Acting Workshop
The children's holiday workshop runs from Monday 11 to Thursday 14 January from 9-30 am to 5 pm each day.
Contact Us for a course flyer if your children are looking for something fun and creative to do over the summer holidays.
November Film Acting Master Class
The teen and adult film acting master class, held on the 10th, 15th and 22nd November produced the short film Happy Halloween.
The talented cast of Meredith Cox, Robyn Millar, Sam Picello, Sophie Richardson, Keltan O'Shea  and Jess Reid  knocked it out of the park and I'm really  looking  forward to commencing post-production on the film next week.
Some of the scenes were shot on location at the spectacular Bungan Castle. Owner John Webek was his usual gracious self, not only allowing us to film in the grounds, but also to record some scenes inside the castle.
The cast members were blown away by John's archeologist grandfather's collection of ancient relics – including two items from King Tutankhamen's tomb. John's grandfather also built the impressive Bungan Castle in 1919.
An exciting and educational day for all involved.
The cast rehearsing a scene at Bungan Castle (L to R) Meredith Cox, Jess Reid (partly obscured), Sophie Richardson, Sam Picello, Robyn Millar  and Keltan O'Shea.
Robyn travelled from Springwood in The Blue Mountains, and Keltan from Newcastle  to attend the three day course. Now that's what you call commitment!
Recording  a scene with John Webek assisting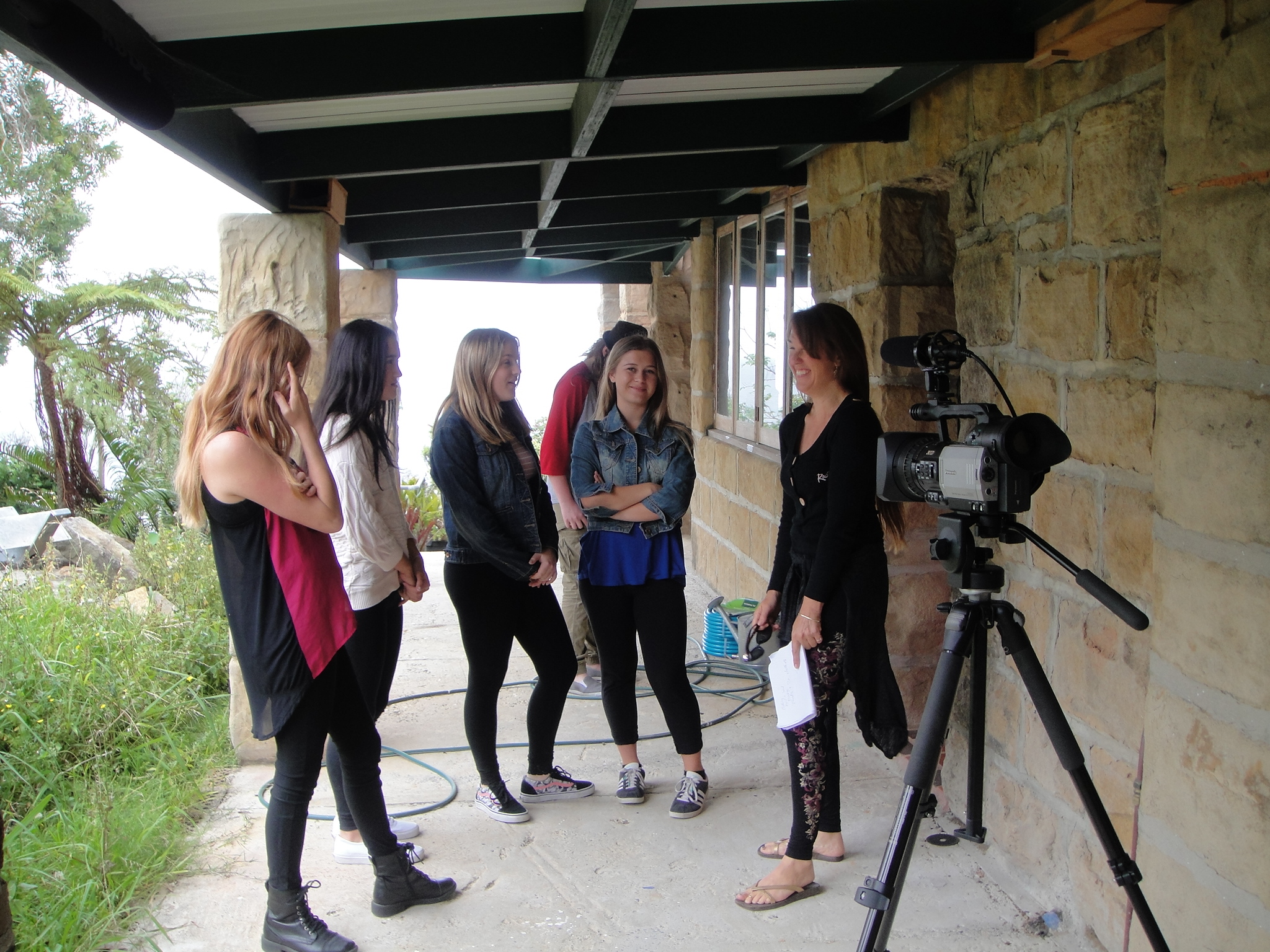 Cast member and 1st AD Meredith Cox prepping a scene with the cast
Student News
Congratulations to advanced student Alli Peters for playing the female lead of Erica in the short film Balloon, directed by Nick Paton.
Balloon is an Official Selection in the Robin Anderson Short Film Festival and an Official Selection in NSW Art Express.
Well done Alli. Thanks for the link. I enjoyed the film. If my wife ever dumps me (God forbid!) then I'll buy a red balloon for company. Seemed to work for the male protagonist – well, not really, eh.
At The Cinema
Director Tom Dangar's feature film Lead Me Astray, starring advanced graduate Logan Webster  as the antagonist Alpha, enjoyed a good reception at it's premiere at the Cremorne Orpheum Cinema a few weeks ago, with over  three hundred people in attendance.


Logan, a young man not content to rest on his laurels, now has his own first feature as writer-director in post-production. Powering Logan! Well done.
Be sure to check out the Peter Andrikidis directed film Alex and Eve, featuring advanced students Katerine-Ann MacKinnon-Lee and her sister Emma-Jane, playing the roles of Sarah and Mandy.   
I really enjoyed the film and was impressed with Katerine-Ann and Emma-Jane's strong performances. 
Critics and audiences alike have rated the film highly and it is well worth seeing.
Class Scene DVDs
If you would like an edited copy of your current or previous term's scenes on DVD, then see me in class or email me and I will organize it for you.
Class scene DVDs are $50-00 per term's 5 scenes and are a cost effective way of improving your acting  skills via further home study.
Check out this short scene from the Junior class, featuring Kiarra and Dion delivering confident and creative performances…
To wrap up the final newsletter of 2015, I'd like to take the opportunity to thank our students for their commitment to classes and their ongoing screen acting education over the past twelve months. You've made me a very proud teacher indeed.
Have a very Merry Christmas and a happy and creative 2016.
I'm really looking forward to working with you again next year.
Alan Nurthen (Director)