Overview
Along with our part-time and full-time screen acting classes – which are specifically designed to produce creative and dynamic performance and to develop essential life skills – the school also offers a unique series of master classes.
These specialist short courses are suitable for Intermediate to Advanced Level teen and adult students, graduates and established actors. The Master Class Program is designed to teach students the additional technical and performance skills required at the cutting edge of film and television production.
The Master Class Program is held throughout the year on weekends. Course information (including dates, times, fees and tutors) is available in-house to established students and via email to our enquiries list, graduates and professional actors. Master class course information is also posted on our web site, six weeks prior to commencement of course.
Contact Us for a Master Class Program calendar
The Screen Actors Workshop Master Class Program includes the following short courses…
Advanced Screen Craft
Tutored by multi-award-winning producer-director Bill Hughes, the two-day Advanced Screen Craft workshop will take your craft and performance skills to a fully professional level.
Screen Acting Intensive
Depending upon availability, tutored by either AFI and Logie award winning actor Peter Phelps or actor and performer Salvatore Coco, the Screen Acting Intensive covers all aspects of on-set performance and preparation. Learn the real skills that professional actors use every day!  An important master class for any aspiring actor.
Film Acting Performance and Technique
Covering all aspects of big-screen performance and technique; in these dynamic film-making workshops students are cast in a fully produced short film and directed through the creation of a scripted character.
Some of the films produced in these workshops have been acclaimed at national and international video festivals, thereby gaining an acting profile for the students involved.
See some of our previous years films here.
Voice,  Articulation and Movement
Voice coach Bill Pepper working with the students
The two important components of an on-screen role are the voice and the body: and what they reveal about character. The audience can only see you and hear you, so whatever you want them to get, they can only get it through those two senses.
This fun and physical course – tutored by Bill Pepper and Natalia Ladyko – will advance your vocal and physical performance skills to a higher level.
Acting with Green Screen Special Effects
Many new films and high-end TVCs rely heavily upon the use of 'green screen' special effects where the backgrounds are put in as computer effects (CGI) after shooting.
Learning to act effectively in a green-screen environment takes practice and requires special considerations (you're acting on a empty set!) The Screen Actors Workshop provides insight into SFX filming techniques in our own green-screen studio and teaches the skills vital to gain work in such projects. Actors with these skills are highly sought after.
Due to their familiarity with Green Screen our students have performed with confidence and conviction in a wide range of productions featuring high-end special effects, including:- The Matrix, The Phantom, The Island of Dr Moreau, Star Wars "Attack of the Clones" and numerous effects-driven television commercials and music clips
American Accents and Dialects
Many films and TV commercials are being made right here in Sydney for the US  market. As a result, the demand for actors capable of speaking with an authentic American accent is steadily growing.
Bill Pepper is Australia's leading voice coach and has worked with many of  Australia's A-list movie stars. Bill's master class in the  American accent covers  all the major dialects required for film and TV. Essential if you wish to get work  in this lucrative area.
Screen Test/Audition Process
Okay, so you're becoming a pretty good actor and you're hungry for work. But how do you show everyone just how good you really are if you don't have the skills to successfully audition for the part?
This intensive workshop will give you the knowledge and the technique to confidently audition for roles in commercials, feature films and television drama.
Armoury and the Actor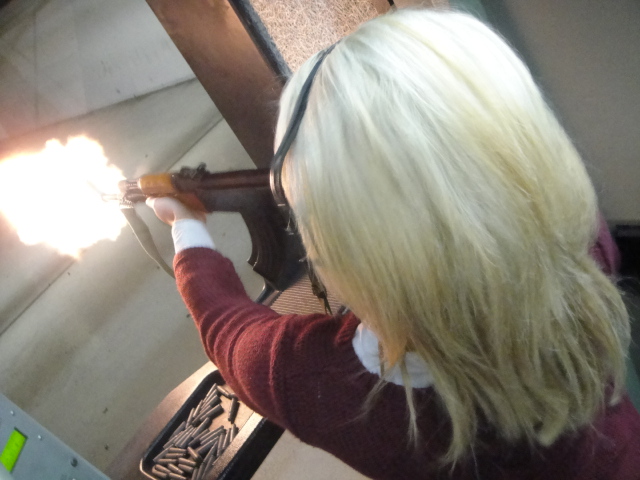 Firearms and special effects are an integral part of television drama and feature  films. This highly-specialised hands-on course – the only armoury course available in Australia – is designed to instruct actors in  the safe and correct handling and discharge of a wide range of weapons.
During this intensive and exciting one-day masterclass, you will have the  opportunity to handle and fire weapons such as M-16s,  Uzi 9mm, Magnum .44,  Glocks, pump-action and sawn-off shotguns, Colt .45 etc.
The course also demystifies the SFX process of body hits, impact and movement. This masterclass is restricted to intermediate and advanced-level adult students, graduates and professional actors only.
Singing for Actors
This fun, exciting and challenging course tutored by one of Australia's leading performers – the dynamic Kaye "The Voice" Gordon – will develop your singing voice and vocal range for confident and powerful performance in film, theatre and musical theatre productions. The course also covers the protocol and technique of auditioning for a wide range of character-based singing roles.
Comedy Performance
This intensive high-energy course tutored by Janis McGavin – cast member of the AFI award-winning sketch show Comedy Inc. – teaches the fundamentals of intensive comedy performance for film, television and stand-up.
Script, Text and Character Development
This informative course places strong emphasis on how the actor prepares for the casting: and then for the role and subsequent performance. The Script and Text component explores the quandary every actor faces – the paradox between preparation and remaining open and spontaneous. The Character Development component focuses on connecting with the other actors, the camera and the audience.
Screen Acting Methodology
In this intensive hands-on 10 week part-time course students study and perform a diverse range of scenes while focusing on the different techniques and methods of the masters. At the end of the course the students have a strong working knowledge of the important international methods and techniques along with a professionally produced show reel which demonstrates their capabilities.
The Casting Process Lecture and Q&A Session
How do you find a reputable agent, impress casting directors and make positive headway in this highly competitive industry? This informative and informal 2 hour session, tutored by producer and former A-List actors agent Hugh Cann, will answer all of your questions and give you a clear insight into the process.
Ask the Agent Workshop and Q&A Session
This intensive 4 hour workshop tutored by agent Roxanne Husband is designed to address common questions and to educate artists in the practicalities of pursuing a career in the performing arts.
Cold Reading Audition Techniques
Cold readings at drama auditions can be a potential minefield for actors. This intensive masterclass covers all you need to know to blitz your way through cold reads and win the role.
Book the Role
Book the Role is an intensive one day workshop designed to empower actors with the skills, technique, confidence and attitude required to consistently book roles in television drama, feature films, and television commercials. Tutored by Logie and AFI award-winning actor Peter Phelps.
Contact Us for course flyers and further details.